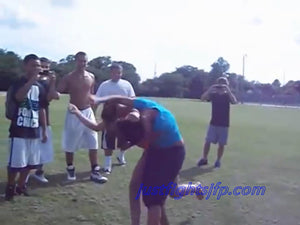 Fight Etiquette
Many people think that there are no rules in a street fight.  But when we ignore those unwritten rules, we end up with assault rather than a consensual fight.  So, today I want to dispel that "no-rules" myth and introduce the basics of some unspoken rules--a fight etiquette, if you will: 
Ask Mehgan's famous question before any fight: "You wanna fight?" (= consensual fight = "Mutual Combat"). A good example of a consensual fight is linked here (click here).  
No sneak attacks. 
No mace. No other weapons. 
No jumping--keep it one on one (1v1). 
Any fight is supposed to be F vs F or M vs M. Not F vs M. 
Wear "fight wear." 
Parents and grandparents off limits. Children off limits, too. 
Do not fight a pregnant woman. 
If the person is not fighting back, stop. 
Any others?  Let us know on our Twitter @JustFightsJFP2
or @JustFightsJFP
---